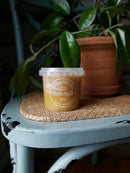 Description
Collected from the untouched Tasmanian wilderness across rolling lands from Strahan to Smithton. Our Prickly Box honey is Raw, has been untreated and filtered as minimally as possible so you can experience the wonder of this honey in its natural form.
Available in 300g and 100g
Payment & Security
Your payment information is processed securely. We do not store credit card details nor have access to your credit card information.