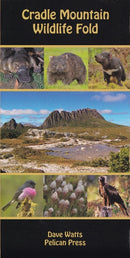 Description
Dave Watts is a well-known and highly respected naturalist. He is also one of Australia's award-winning wildlife photographers. His work has been published in Australia and internationally in such magazines as Nature Australia, National Geographic and BBC Wildlife.
Before becoming a full-time photographer and writer, he worked as a forest officer in the United Kingdom and as a conservation officer with the Tasmanian Conservation Trust.

Payment & Security
Your payment information is processed securely. We do not store credit card details nor have access to your credit card information.