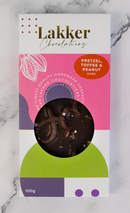 Description
Lakker Chocolatiers Pretzel, Toffee and Peanut Dark
Crunchy salted pretzels, roasted Australian peanuts, toffee shards, Tasmanian sea salt flakes. Blended with our signature 58% Dark Chocolate.
A savoury, salty chocolate snack to satisfy those salty sweet cravings.
The Chocolate is Gluten Free
100g
Payment & Security
Your payment information is processed securely. We do not store credit card details nor have access to your credit card information.