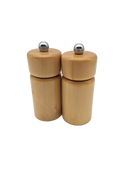 Description
The Huon Pine Salt and Pepper Mills are 100 mm high. They are in both the modern straight version. The grinding mechanism is made from ceramic, which provides the best results and is extremely long-wearing. They will crush or grind Salt, Pepper, and various spices. 
They are finished with 3 coats of a very durable spray lacquer. This lacquer is the best finish for these frequently handled products. It is hard wearing and brings out the wonderful grain of Tasmanian Timber.
Payment & Security
Your payment information is processed securely. We do not store credit card details nor have access to your credit card information.