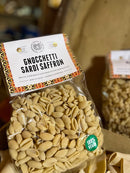 Description
Tasmanian Saffron Gnochetti Sardi is the beautiful almost shell shaped pasta with its punch of Saffron. It is a Sardinian classic called "Malloreddus" in Sardinian dialect, a pasta used for important occasions, fairs, and weddings.
It is often cooked with pork sausage and tomatoes, but is also so versatile can be used in many applications. Excellent with goat ragu.
400g
Payment & Security
Your payment information is processed securely. We do not store credit card details nor have access to your credit card information.