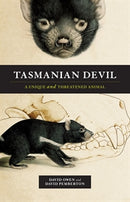 Description
The story of the Tasmanian Devil is a remarkable one - surprising, controversial, funny and tragic. Nor has it been told before. Few mammals have been so negatively named, but this book casts the Tasmanian Devil in a strikingly new light.
Far from being a scavenging, ferocious oddity, it is a treasured and valuable wildlife species, and one that faces the threat of extinction. This is the first book published on the animal that has the distinction of being the world's largest marsupial carnivore, and it is packed with information that has either never been published or has only been found in scientific publications.
Payment & Security
Your payment information is processed securely. We do not store credit card details nor have access to your credit card information.