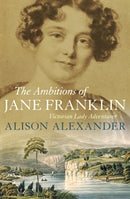 Description
 A genius at publicity before the term existed, Jane Franklin was a celebrity in the mid-19th century.
This is her remarkable life, including her extensive travels, her years in Tasmania as the governor's wife, and her very public battle to save husband, the Arctic explorer Sir John Franklin, from accusations of cannibalism.
Payment & Security
Your payment information is processed securely. We do not store credit card details nor have access to your credit card information.