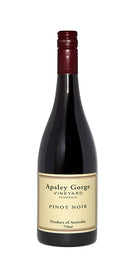 Description
The Apsley Gorge Pinot Noir 2020 is a very big wine, it is a product of the vintage, with a long slow ripening. 
The nose has the typical Apsley Gorge concentrated Pinot fruit giving a hint of what is to come. Even with the primary fruit you have the other complexities nosing through, and this wine has only started its journey.
You know when it hits your pallet that this is something very special.
It invades your mouth, not just the sensors on your tongue, but your whole mouth.
The inside of your cheeks, your gums, and then your taste sensors start to hum a symphony. 
What is this, It can't possibly have come from mere grapes?
This is what pinot is about.
Subtly, but with power, elegance, mystery, sensualness and ultimately pleasure and enjoyment. 
Maybe the moon, the stars, and the planets aligned? 
Maybe it was the season, the right amount of sun and rain? 
Maybe 30 year old vines?
….or maybe just luck?
Shipping alcoholic beverages by mail is prohibited by the United States of America Government.
Payment & Security
Your payment information is processed securely. We do not store credit card details nor have access to your credit card information.