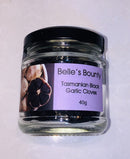 Description
Tasmanian black garlic cloves are aged under specialised conditions until the cloves turn inky black and develop a sticky date-like texture.
Use the cloves as you would roasted garlic : puree them with oil, then smear them on crostini, incorporate them into a dressing, or simply rub onto chicken or fish before roasting. Dry them further and the powdered cloves are like umami fairy dust. Sprinkle it on anything that wants some earthiness and depth of flavour.
40g
Payment & Security
Your payment information is processed securely. We do not store credit card details nor have access to your credit card information.