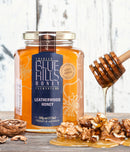 Description
Blue Hills genuine Tasmanian leatherwood is a pure, delicious and fragrant honey.

It smells just divine, and much like a precious expensive perfume.
Of course, the distinctive flavour of leatherwood honey is ultimately what makes this honey so special and so highly-sought after all over the world.
Some describe it as spicy, others taste hints of pepper.
One thing all agree on however, is that leatherwood honey is absolutely delicious.
Sweet, rich and with a lingering magical after taste, this is surely one of Australia's finest honeys.
500 g
All states except WA due to state Quarantine laws.
Payment & Security
Your payment information is processed securely. We do not store credit card details nor have access to your credit card information.