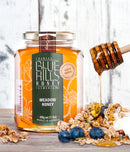 Description
The fertile farmlands and meadows on the edge of the Tarkine wilderness are often referred to as "the food bowl of Australia"; farmers there have a reputation for skilfully caring for the land.

The bees produce this beautiful honey from the clover and other flowers growing in these farmers' meadows, as well as from the native gums and wildflowers that grow alongside these fields and nearby small streams.
The mild flavours of meadow honey are widely popular.
500 g
All states except WA due to state Quarantine laws.
Payment & Security
Your payment information is processed securely. We do not store credit card details nor have access to your credit card information.