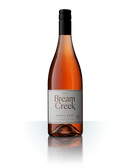 Description
Bream Creek Vineyard Pinot Rosé 2023
We make our Rosé from 100% Pinot Noir, grown on a single patch of Pinot Noir located on the south facing slope of B Block at our picturesque Marion Bay vineyard. Being south facing, this block receives less sunlight than the north facing block and retains higher than average natural acidity – perfect for a Rosé wine!
For this wine in purchases of a dozen we are offering a 10% discount and Free Delivery use the code Wine at checkout.
Payment & Security
Your payment information is processed securely. We do not store credit card details nor have access to your credit card information.