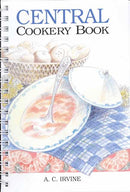 Description
As thousands of good cooks know, "You can trust the 'Central'", a true Australian publishing classic.
No kitchen is complete without this remarkable book close at hand.
It was first published in the 1930's. The cookbook was conceived by the late former Mistress of Domestic Science with the Education Dept. of Tasmania, Miss Alice C. Irvine., as a sole text for education in cookery in Tasmanian schools.
Payment & Security
Your payment information is processed securely. We do not store credit card details nor have access to your credit card information.