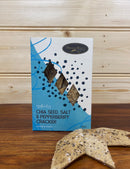 Description
The unique crackers have been hand crafted by Tasmanian licensed cracker experts. They are naturally delicious with combination of chia seed, sea salt, and Tasmanian grown pepperberry. 
The savoury flavour perfect to match cheeses, meat, dips or to eat them on their own.
150g
Payment & Security
Your payment information is processed securely. We do not store credit card details nor have access to your credit card information.