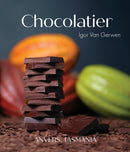 Description
Igor van Gruen the Founder of Anvers Chocolates has spent the last 33 years creating a brand and destination that sees over 200,000 visitors a year . They are also the sole australian importer and distributor of the Fortunate No.4 chocolate, the oldest, rarest chocolate in the world, which was thought to be extinct for over a hundred years until a small number of trees were found in a canyon high in the Andes and it was confirmed that they were this particular strain of chocolate. The local farmers are now propagating and marketing this exclusive chocolate to a limited number of suppliers around the world.
Very much like our other books, Chocolatier book is a mixture of how to work chocolate, great recipes, beautiful pictures and a roundup of chocolate producing regions around the world that Anvers draws on to make their chocolates. The are also some recipes from respected chefs that use the Anvers chocolates in their restaurants.
Payment & Security
Your payment information is processed securely. We do not store credit card details nor have access to your credit card information.