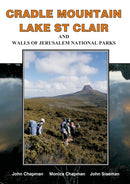 Description
The 6th edition of Cradle Mountain Lake St Clair and Walls of Jerusalem National Parks is now available.
The major change for this edition of this bushwalking guide has been to convert it to colour throughout. This has resulted in 27 colour topographic maps, 140 colour photographs and gradient profiles for all major tracks. The book has expanded from 160 to 192 pages and new walks include all of the Penguin Cradle Trail, new approaches to the Walls of Jerusalem and some new rough tracks for experienced walkers in the 'Other Routes' chapter such as Lees Paddocks to Kia Ora Hut, Mt Massif traverse and the Traveller Range. The Eldon Range and Cheyne Range which were deleted in earlier editions have been returned as brief notes for experienced walkers.
Payment & Security
Your payment information is processed securely. We do not store credit card details nor have access to your credit card information.