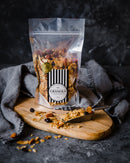 Description
Almond & Cranberry Granola
Produced by Divine Addictions it is a delicious blend of oats, nuts, fruit, honey & olive oil. This crunchy and addictive Granola has been oven roasted in small batches with generous handfuls of almonds, cranberries and a warm and aromatic sprinkle of cinnamon and ginger. Serve with Greek yoghurt and seasonal poached fruits or berries. Ideal for gourmet travellers, walkers, campers and discerning foodies requiring a high energy snack on the go.
Available in 150g and 400g
Payment & Security
Your payment information is processed securely. We do not store credit card details nor have access to your credit card information.