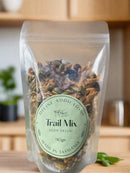 Description
Are you looking for a snack? why not try our Trail Mix- Seedy Deluxe from Divine Addictions.
A delicious crunchy seedy blend with chewy tart cranberries and dark chocolate. A healthy high energy trail mix for hiking adventures and a perfect 'pick-me-up' snack between meals. 
This contains Nut free, Gluten free and vegan.
Ingredients: Pepitas, Coconut, Buckwheat, Sunflower seeds, Cranberries, Dark Chocolate, Olive Oil, Maple Syrup, Salt & Spices
140g
Payment & Security
Your payment information is processed securely. We do not store credit card details nor have access to your credit card information.