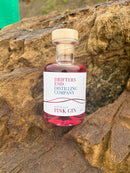 Description
Drifters End Pink Gin is created by stepping our Australian Dry Gin gin in juicy Tasmanian raspberries that lend a delicate and natural sweetness delivering a fresh smooth finish that will leave you tickled pink. 

Can be enjoyed neat, on ice, with a sprig of fresh rosemary, or in your favourite cocktail. Our Pink Gin turns your regular Gin Martini into a Party Martini - a Partini!
All our spirits are hand crafted and batch distilled in Tasmania.
Bottled at 41% ABV, our Pink Gin is available in 700ml and 200ml bottles.
Shipping alcoholic beverages by mail is prohibited by the 
United States of America Government.
Payment & Security
Your payment information is processed securely. We do not store credit card details nor have access to your credit card information.