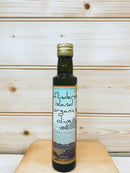 Description
Flinders Island Organic Olive Oil comes from an organic grove on Flinders Island. With such location right in the path of the Roaring 40's, the island has the trade winds which ensure a clean and pollution free atmosphere. The robust tang in the air challenges the plant life and adds its own flavour to any of the island's produce.
The oil is a blend of main olive varieties, including Frantoio and Leccino with some Picual, Coratina, Picholine, and Barnea. The olives are hand picked or picked with handheld picking rakes. Picking usually takes place between April and June.

Gold medal in the Australian International Awards 2021, Silver medal in the Royal Tasmanian Fine Food Awards and the Royal Adelaide Olive 2021.
Payment & Security
Your payment information is processed securely. We do not store credit card details nor have access to your credit card information.