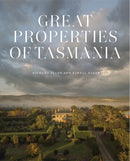 Description
A stunningly illustrated celebration of the remarkable rural properties of Tasmania
When celebrated English novelist Anthony Trollope toured Australia 150 years ago he described Tasmania as the 'beautiful island, the sweetest in climate, the loveliest in scenery, the richest in harbours and rivers'. It is easy to see why the early settlers, hailing mainly from the British Isles, felt so much at home there; it is the Australian state closest in geography and climate to the northern hemisphere lands that they knew. They settled and built significant Georgian mansions from local sandstone and set about growing and selling wool to insatiable international markets.
In Great Properties of Tasmania, Richard Allen and Kimbal Baker take readers inside eighteen private estates-from the rich Midlands region to the northwest, along the Fingal Valley in the east and to the south of the island. They explore the histories of the families who have lived there and describe the farming practices that today's generations employ. Many properties are owned by sixth- and seventh-generation farmers, and most continue to run sheep and cattle, while others are involved in different markets- whiskey and gin distilling, wine-making and growing poppies, fruit and vegetables.
Great Properties of Tasmania is a celebration of key rural estates in Australia's smallest, most tightly held and arguably most beautiful state.
Payment & Security
Your payment information is processed securely. We do not store credit card details nor have access to your credit card information.