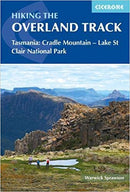 Description
This guide covers the iconic 81km Overland Track in Tasmania, one of Australias most famous long-distance walks. Starting at Cradle Valley and finishing at Lake St Clair, this hut-to-hut route is split into seven stages of roughly 10km, with plenty of opportunities to tackle the tracks many higher level sidetrips which include Tasmanias highest peak, Mt Ossa.
The guidebook provides in-depth route description and clear 1:50,000 mapping for the whole track, which is suitable for all fit hikers as it is well marked and maintained with boardwalks and bridges. The more adventurous sidetrips are less waymarked and require experience and navigational ability.
Payment & Security
Your payment information is processed securely. We do not store credit card details nor have access to your credit card information.