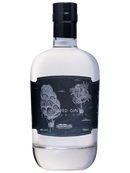 Description
Iron House Distillery Strange Omen Hopped Gin
Distilled at their East coast distillery, facing the picturesque Tasman Sea, Strange Omen Hopped Gin was created using their based spirit grown, harvested, and distilled all on premise. This artisan style gin has a combination of 9 botanicals including locally sourced Tasmanian pepperberries, lemon myrtle and Tasmanian hop. 
Alcohol vapour is passed through a mixture of hop and juniper, creating a perfectly dark fusion of flavours. The resulting gin has the flavour of their classic Small Batch gin with a delicate but rich hoppy aromas and a long smooth finish. 
Shipping alcoholic beverages by mail is prohibited by the United States of America Government.
Payment & Security
Your payment information is processed securely. We do not store credit card details nor have access to your credit card information.