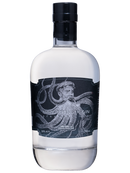 Description
The Strange Omen Navy Strength Gin is distilled at their East coast distillery, facing the picturesque Tasman Sea is not for the light of heart. Strange Omen Navy Strength Gin was created using their own grape spirit base. This artisan style gin has a combination of 9 botanicals including locally sourced Tasmanian lemon myrtle and pepperberries.

Produced for every gin lover, the resulting drop is full flavoured with a strong finish. This gin can compliment any cocktail, but per the sailors orders, its best served as is.

Its name sake comes from the legendary seafarers of old and their love for a decent drop of gin. These sailors would often help themselves, below deck, to a nip or two of gin and to cover their heinous crime, they would then water down the ships gin supply. However, to tell if the gin had been watered down from Navy Strength, the Captains of these wayward salty crews would use a simple test.....If you pour a gin on gunpowder and it still catches alight - it's still good !


Shipping alcoholic beverages by mail is prohibited by the United States of America Government.
Payment & Security
Your payment information is processed securely. We do not store credit card details nor have access to your credit card information.