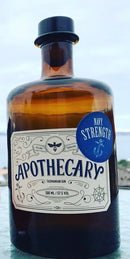 Description
Killara Navy Strength Apothecary Gin
When you're at sea and need something to get you back on an even keel, this bold small batch gin won't leave you high and dry. We haven't gone overboard with the juniperbut it anchors down the hints of citrus and coriander. A gin for gin lovers, enjoy on it's own or in your favourite cocktail.
ABV: 57.5%
500ml
Shipping alcoholic beverages by mail is prohibited by the United States of America Government.
Payment & Security
Your payment information is processed securely. We do not store credit card details nor have access to your credit card information.