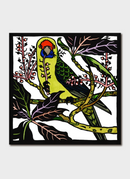 Description
Kit Hiller lives on the North-West Coast of Tasmania. Born in Hobart and trained at the Tasmanian School of Art, she has exhibited her art for over thirty years.
Kit's watercolour portraits have been shown in the Archibald Prize exhibition on five occasions and has won the Portia Geach Memorial Award for Women Portrait Painters three times. She produces landscapes of the North-West Coast of Tasmania, still-lives and portraits but it is best known for her hand-coloured lino-cuts, elimination lino-cuts and dioramas.
Size: 135 x 135 mm. Printed on high quality archival paper.
Payment & Security
Your payment information is processed securely. We do not store credit card details nor have access to your credit card information.