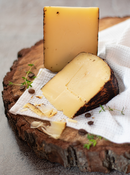 Description
La Cantara Cafe con Leche - Coffee Rubbed Cheese will deliver sweetness, buttery, and creaminess to your palate. All this accompanied by an amazing and uncommon contrast created by the exquisite "Cafe Moliendo", Colombian coffee beans that have been roasted and handled under the Venezuelan traditions.
Aged for a minimum of 3 months.

Ingredients: Pasteurised milk, salt, ground coffee and olive oil, non-animal rennet, starter cultures.
Allergy Advice: Contains Milk.
Payment & Security
Your payment information is processed securely. We do not store credit card details nor have access to your credit card information.