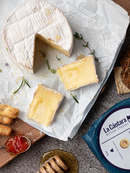 Description
La Cantara Fluffy Cow - Brie Style Cheese is a traditional French-style white cheese.
 It is the result of a combination of French bloomy rind cheese recipes, that is intended to bring flavour complexity and intensity to your palate
 It exhibits a rustic rind, covering a rich and creamy paste that can still reatain a firm middle section (chalky core) for most of its life but it doesn't compromise flavour.  Delivers nicely balanced mushroomy, nutty, buttery, and garlicky notes.
 Aged for a minimum of 3 weeks.

Ingredients: Pasteurised milk, salt, non-animal rennet, cultures (starter cultures & moulds).
200g
Payment & Security
Your payment information is processed securely. We do not store credit card details nor have access to your credit card information.