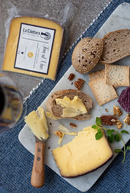 Description
La Cantara Tom al Vino - Red Wine-Soaked Cheese is a semi-hard cheese soaked in a local Tasmanian Red Wine.
Inspired by a Spanish goat's milk cheese. This is a washed curd cheese, soaked and washed with red wine throughout the ageing process, resulting in a slightly sweet, fruity, and nutty paste topped with a delicate hint of a local Pinot Noir coming from rind, combined with a slight earthiness of a natural rinded cheese.
Aged for a minimum of 2 months.

Ingredients: Pasteurised milk, salt, Tasmanian wine, non-animal rennet, starter cultures.

Allergy Advice: Contains milk
180g
Payment & Security
Your payment information is processed securely. We do not store credit card details nor have access to your credit card information.