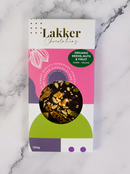 Description
Lakker Chocolatiers Organic Seeds, Nuts and Fruits - VEGAN
74% Dominican Republic Organic Dark Chocolate, roasted nuts and seeds, dried fruits. 
Delivering an intens cocoa taste with a pronounced bitterness and slight acidity, made with Bio ingredients.
The Chocolate is Vegan and Gluten Free.
100g
Payment & Security
Your payment information is processed securely. We do not store credit card details nor have access to your credit card information.