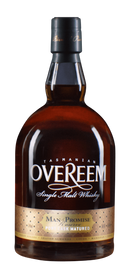 Description
The result of three exceptional port casks, hand-selected and skillfully married together by distillery founder Casey Overeem, the annual Man of Promise Reserve release celebrates the promise Casey Overeem made to himself almost four decades ago. In a cousins basement, somewhere in a small town in Norway, Casey had his first distilling experience. An already avid single malt whisky fan, Casey immediately made himself a promise - a promise to one day craft a single malt whisky that he could enjoy alongside the great whiskies of the world. 

Release #2 of the Man of Promise Reserve carries big expectations, with release #1 being voted best Australian Single Malt Whisky by Ozwhisky review in 2020.  Once again, this single malt whisky conveniently tastes like Christmas. Designed to be shared, and presented at an approachable 50% abv, its both rich and decadent, yet light and refreshing, and will perfectly compliment the Christmas seafood feasts and sweet creamy desserts.
700ml
Payment & Security
Your payment information is processed securely. We do not store credit card details nor have access to your credit card information.