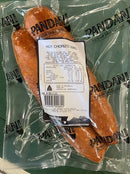 Description
Pandani select only the best quality meats from the best breeds to produce the  smallgoods, creating premium Tasmanian taste thanks to the some of the purest water and cleanest air in the world.
This hot chorizo is a
 delicious continental sausage in natural style casing made from coarsely textured pork, seasoned with cracked black pepper, garlic and spicy herbs then naturally wood smoked.
300g
Payment & Security
Your payment information is processed securely. We do not store credit card details nor have access to your credit card information.