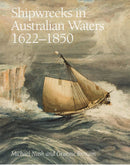 Description
As an island nation, Australia has always been fundamentally dependent on shipping services to connect it with the outside world, and to carry out trade and communications along its coastline. However the waters around Australia have proved treacherous to mariners and since the wreck of the English ship Trial in 1622, thousands of vessels have been lost up to the present day.
Based on original documents, this publication is the most comprehensive account to date of the circumstances of these losses up until the end of 1850. Where possible it also provides information on the current condition of the shipwreck sites, and any archaeological projects that have been carried out on them.
Payment & Security
Your payment information is processed securely. We do not store credit card details nor have access to your credit card information.