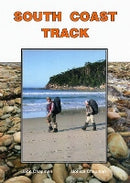 Description
Contains comprehensive track notes for walking the South Coast Track in Tasmania. The guide has 9 -1:50,000 colour topographic maps of the entire track, 50 colour photographs plus gradient profiles of the track. This is an all colour production with full track notes for both directions along the trail.
The colour topographic maps and notes have been colour coded for each direction to reduce confusion about which notes are currently being followed. This is one of the worlds great wilderness walks and takes 6 to 8 days to walk. Most plan for 7 days and it is suggested to carry one spare days food in case a river floods causing delays.
Payment & Security
Your payment information is processed securely. We do not store credit card details nor have access to your credit card information.