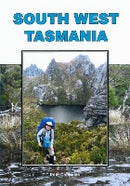 Description
Previously published in 1976 (note form on A4 paper), 1978, 1983, 1990 and 1998. Covers all the main tracks and routes in South West and Wild Rivers National Parks in Tasmania.
This covers the southern half of the Western Tasmania World Heritage Area. Track notes for the northern half are in another guide, Cradle Mountain Lake St Clair National Park. Contains comprehensive track notes, brief background notes on history, botany and geology, comprehensive planning and preparation notes and access details.
Payment & Security
Your payment information is processed securely. We do not store credit card details nor have access to your credit card information.