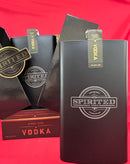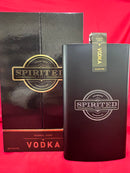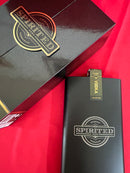 Description
Looking for a Vodka Gift? Don't miss out this limited Vodka!
Spirited Tasmanian Vodka is the result of a unique collaboration between our distillery and a boutique Tasmanian winery. We acquired two oak barrels that had previously housed Tasmanian grown Shiraz grapes. Instead of re-coopering the barrels, we left them "wet" (some of the wine was inside the timber) which allowed us to combine the flavours of our spirits with the residual wine along with the oak. From this we derive both a unique colour and flavour.
This was rested in the barrels for just over 8 months before decanting. We immediately transferred them to stainless steel flasks so that they aren't further altered by oxygen or ultraviolet light.
Our packaging aims to mirror the repurposing of the barrels – the stainless steel flasks are designed to be re-used. 
The Distillery offers an exchange program to refill flask.
We are committed to a sustainable and collaborative Tasmania – that also happens to taste quite exceptional!
 40% ALC/VOL 600ml
Payment & Security
Your payment information is processed securely. We do not store credit card details nor have access to your credit card information.