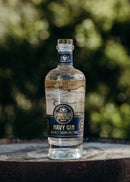 Description
Summerleas Navy Gin is best served neat and enjoyed as you would a cask-strength single malt. That's how we drink it!
Summerleas Navy Gin is the perfect gin choice for all cask strength single malt whisky lovers.
Summerleas Navy Gin is a tribute to the Dutch explorer Abel Tasman, the first European to land on the shores of Tasmania in 1642.
Gin's prevalence around the world is attributed to sailors setting foot in new towns and on new continents and discovering new and exotic spices during their voyages.
The British Navy was an important buyer of gin but the quality produced varied from city to city, and it was often suspected that the spirit had been overly watered down.
 Prior to 1816, there was no accurate way to measure the alcoholic strength of a spirit so to test the alcohol, it is reputed that a mixture of gunpowder and spirit was lit. If it burned with a clear flame this was 'proof' that the spirit was of sufficient standard and would be accepted. A failure to light or a smoky flame were signs that the spirit was below the required strength and would be rejected.
To pass this test when creating gins for the British Navy, distillers supplied it at a strength of 57.5% ABV or higher. In modern times, gin bottled at 57% ABV or above is known as 'Navy Strength'.
Our Navy Strength Gin is an exceptional, perfectly balanced Gin, made for today's explorers and those with an adventurous spirit.
Summerleas Navy Gin Moscow Mule Recipe
One of our favourite cocktails to make with Navy Gin, this recipe makes a crisp and refreshing drink perfect for summer and easy to make for entertaining.
45ml Summerleas Navy Gin
15ml lime juice
150ml ginger beer

Serve in a chilled glass with ice, garnished with a wedge of lime and a mint leaf.
Navy Strength Gin Martini
In his review of our Navy Strength Gin, the Martini Whisperer shared a wonderful version of a Navy Strength Gin martini where "the complexity of the gin really opened up making for a cracking cocktail".
Shipping alcoholic beverages by mail is prohibited by the United States of America Government.
Payment & Security
Your payment information is processed securely. We do not store credit card details nor have access to your credit card information.