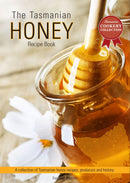 Description
Tasmanian Honey has been produced since the 1800's. Today approximately two-thirds of Tasmania's honey production is from the leatherwood blossom. This book provides some interesting information about Tasmanian honey and a collection of honey recipes. These recipes include local as well as all-time favourites. Scattered across these pages are useful snippets about cooking with honey and some age-old home remedies.
A collection of Tasmanian honey stories, recipes & producers.
Payment & Security
Your payment information is processed securely. We do not store credit card details nor have access to your credit card information.