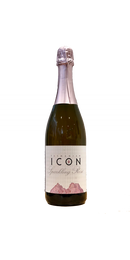 Description
Tasmanian Icon Sparkling Rose
Made with 100% Pinot Noir fruit from a single block in the Coal River Valley, the Tasmanian Icon Sparkling Rosé is an aromatic, fresh and elegant take on the Pinot Noir grape as a sparkling. Akin to the Pinot based sparkling wines of the Veneto, this wine is made with minimal skin contact, extracting only a subtle blush colour, ensuring the aromatics are bright and bouncy and the palate crisp and refreshing - avoiding weightiness and phenolic texture that comes with greater extraction from the skins. Presenting bright strawberry aromatics; the palate presents these generous fruits with a touch of fruit sweetness up front, enabling the zippy acidity to draw this back through the linear palate. A sprightly mouse brings all the elements together without confusion resulting in focused and refreshed drinking.
For this wine in purchases of a dozen we are offering a 10% discount and Free Delivery use the code Wine at checkout.
Payment & Security
Your payment information is processed securely. We do not store credit card details nor have access to your credit card information.