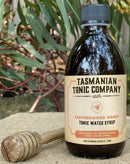 Description
The Tasmanian Tonic Company Pepper Berry Tonic will complement savoury spirits; if spices are the primary botanical in your spirit, this subtle native Tasmanian Pepper Berry Tonic is for you.
The tonic waters syrups are designed to complement fine spirits. They're very low in sugar with delicately balanced singular botanicals to complement without overwhelming. Fine spirits deserve a fine tonic.
300 ml
Shipping alcoholic beverages by mail is prohibited by the United States of America Government.
Payment & Security
Your payment information is processed securely. We do not store credit card details nor have access to your credit card information.