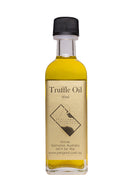 Description
Tasmanian Truffle Oil        
Take the heady aromas of White Truffle fused with the earthy richness of Black Truffle and you have a sensational taste capturing the best of both worlds.
 Using the best traditional and cutting edge methods with rich Australian olive oil, we have an amazing gourmet delicacy. Try our truffle oil with pasta, risotto, eggs or potatoes and right through to soups and salads.
60 ml
Payment & Security
Your payment information is processed securely. We do not store credit card details nor have access to your credit card information.