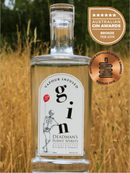 Description
Deadman's Point  Infused Gin produced by Deadman's Point at Kettering
The base for the vapour Infused Gin is made simply, from pure Tasmanian rainwater and organic cane sugar. After double distilling, and charcoal filtering, we vapour infuse our base with carefully chosen botanicals. The subtle flavours of locally grown pepper berry leaves, Oyster Bay pine, lemon and lavender are blended with lemon myrtle, grapefruit, juniper, coriander and liquorice root to create a uniquely Tasmanian gin experience.
The Vapour Infused Gin won a Bronze Medal at the Australian Gin Awards 2019. (As well as a Bronze Medal for our label design!)
Shipping alcoholic beverages by mail is prohibited by the United States of America Government.
Payment & Security
Your payment information is processed securely. We do not store credit card details nor have access to your credit card information.