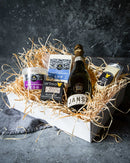 Description
Vegan Cheese and Vegan Sparkling Wine
The vegan cheese selection includes Tasmania's best vegan cheeses perfectly matched with a Tasmanian vegan sparkling from Jansz.
Jansz Sparkling
Artisa Derwent 120g
Artisa Gladstone 120g
Lauds Smoked Oat Cheese 200g
Lauds Persian Feta 300g

The cheese hampers and gifts are delivered in polystyrene boxes with ice cells. The gifts can be packed in a gift hamper inside the polystyrene box if requested.
Payment & Security
Your payment information is processed securely. We do not store credit card details nor have access to your credit card information.