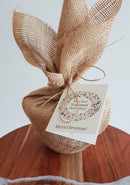 Description
The Vegan Plum Puddings are produced on Bruny Island.
The vegan puddings are made from the finest produce and hand crafted with love. From the first bite your senses will be amazed with the combinations of abundant fruit, aromatic spices and the richness of brandy & stout.  The products used to make the puddings are vegan and dairy and lactose free.
 "The Pom's invented them, our family perfected them! 
We promise you'll never buy any other plum pudding again!" 
The Bruny Island Pudding Making Family
 Ingredients: mixed fruit, almonds, glaced cherries (possible pits), orange, lemon, apple, carrot, nutmeg, mixed spice, cinnamon, chia seeds, nuttelex, golden syrup, brown sugar, breadcrumbs, plain flour, stout & brandy.
Payment & Security
Your payment information is processed securely. We do not store credit card details nor have access to your credit card information.