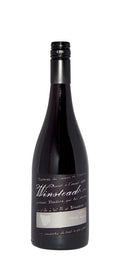 Description
Winstead Lot 7 Pinot Noir 2019
A dark red colour with a touch of blue around the rim. This wine is still well in its youth. The nose displays dark fruits of the forest and spicy oak showing the influence of the new Suary French barriques. The palate is deep and rich, with sweet dark cherry, raspberry, plum and some spicy oak influences. The structure of this wine is immediately evident showing both weight and length. This wine is one for the cellar as it has been built for the long haul. Venison or wallaby accompany this wine beautifully.
For this wine in purchases of a dozen we are offering a 10% discount and Free Delivery use the code Wine at checkout.
Payment & Security
Your payment information is processed securely. We do not store credit card details nor have access to your credit card information.