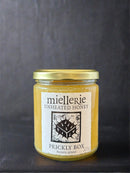 Description
Miellerie Prickly Box is a gift from nature for Christmas and New Year, this is her time of blossoming.
Prickly Box grows slowly in poor soil, bending under the wind between rock and gum; beauty of the dry land. She is a shrub of delicate little white flowers; a lace hiding her body of thorns. Craving the mid-summer rains, only then will she offer her nectar. These ephemeral yields allow bees to gather her sweetness from her corral cradling the honey of warm, butter-scotch flavours.
 325g
All states except WA due to state Quarantine laws.
Payment & Security
Your payment information is processed securely. We do not store credit card details nor have access to your credit card information.