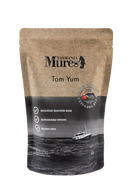 Description
Mures Tom Yum made with Blue Eye Trevalia. This product forms the perfect tasty base for your favourite seafoods
The gourmet seafood soup base has been tried and tested in Mures' famous restaurants on Hobart's waterfront.
The eco-friendly method of line caught fishing allows Mures to carefully target species from sustainably managed Australain fisheries.
It is Gluten Free. 
500g
Payment & Security
Your payment information is processed securely. We do not store credit card details nor have access to your credit card information.