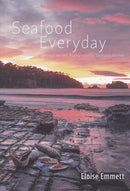 Description
Seafood Everyday is a full colour cookbook of 80 original recipes by Tasmanian chef, stylist and photographer Eloise Emmett.
With over 20 years of experience cooking in restaurants and kitchens around Tasmania, qualified chef Eloise has developed, photographed and styled each recipe to perfection. Seafood Everyday contains recipes for weeknight family meals as well as special celebration dishes – with everything in between.
Payment & Security
Your payment information is processed securely. We do not store credit card details nor have access to your credit card information.