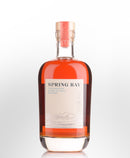 Description
Spring Bay Port Cask Whisky
Deep copper with a rosy tint. Good port pick-up to the oily, sweet malt, evoking scents of lamination or strawberry Swiss rolls. Flavor wise, another full bodied, beautifully balanced Spring Bay - the richness of the malt completed by hints of rosewater, strawberry cream sponge cake and dark chocolate. The finish turns finely astringent with a soft thrust of spice. Shades of Turkish Delight through the aftertaste demonstrate skillful handling.
200ml
Shipping alcoholic beverages by mail is prohibited by the United States of America Government.
Payment & Security
Your payment information is processed securely. We do not store credit card details nor have access to your credit card information.