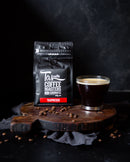 Description
This coffee blend produces a sweet, strong aftertaste at the back of the palate.
The piquant flavours are derived from medium roast beans, which also produce a traditional, velvety "crema".
250g
Payment & Security
Your payment information is processed securely. We do not store credit card details nor have access to your credit card information.